Momentum 20th Anniversary Open – Write up and Results
|
18th March 2017
Finally ran the Momentum 20th Anniversary surf comp (21 by the time it happened) on sat 18th March, early start with the first of the junior heats at 9.30 with a few no shows and added entries having around 18 junior entries at one point! and 35 competing throughout all the divisions. The event had an International feel with competitors from Uruguay, New Zealand, Chile and Tynmouth the whole day ran pretty smoothly thanks to all that were there competing and helping out, we were blessed with clean shoulder high surf in the morning with it buildind over the day as the tide pushed in and the little bit of wind during the day dying off to leave glassy overhead for the finals and free surf afterwards. The Junior final was held straight after the heats otherwise it would have been a long 4 hour wait till the afternoon and the little ones were already a bit chilly. All 5 finalists had surfed well to make it there and stand outs Jack Smiles and Elliot Young made for great spectating, with only .1 between 3 and 4th. Jack had posted a couple of scores and Elliot sitting on just the one score left it very late but snagged a nice Little Pease right that peeled all the way allowing him to show how he has improved over the past few months getting the rail in and showing some spary off the back catching Jack's attention, he managed to reply back with another solid score and Jack finally taking the win a bit of local knowledge helping out.
Junior girls ran too with Lia Harris, Lucy Young and Tamzin McQueenie, some lovely riding by the girls by such tiny folk! making the most of the day with Tamzin getting the nod at the end.
With the heats run for the Open and Longboard
And the arrival of Judge Lisa Monteith after her marathon Journey down from Thurso ( thanks Lisa) the finals were under way, first in the water was the Longboard final all showing off their cross stepping, hanging 5 and smooth riding there was a close fight on again by the top three in with the Godfather of the coast Mr Ian Mckay taking out the title, another win to add to his many Scottish National Titles as far back as i can remember? pre Carwin Williams days!and British caps not bad for a 60yr old! still styling it..
On to the open held in head to overhead clean waves there were some very tired surfers now both Jack Smiles and Brad Robertson having run out off puff in the longboard final and open semis and both narrowly missing out on final spaces a few countbacks on the judging sheets. They both managed a free surf after at Big Pease after!!
Closely fought battle between Sebastion Jiminez , Andy Joyce, Graham Prentice and Jamie Marshall ( Jamie having narrowly missed longboard final by .4) and interference call.
With some great rail to rail surfing and old school power, the speed /power and flow was shown best by Sebastion who had been a stand out most of the day.
A very BIG thanks to Jamie Marshall and the Wave Project great to see some positive response for a great charity and pr for them further along the coast.
Brain Young can't thank you enough dude for everything. I think Owen And Elliots sliding down the Rocks in there wetsuits like only groms do made us all feel young again!
Sally Harris, Lisa Monteith, Nick Fairweather, Calum Burns, Simon Bilcockand all the other judgies and tent .disc holders thank you.
Andy Joyce for the effort and drive from pumping Thurso
and creased board.
Pease Bay.
And all the groms for running about
Mike Johnstone images, Glad he was there as caught some of the action,
Apologies for me photo bombing and just s few shots of the comp.
Edinburgh and Borders surf club will be holding more of these events over 2010
c u next time.
results:
Open.
1. Sebastion Jimenez. Uruguay
2. Andy Joyce NZ
3. Jamie Marshall Dunbar
4. Graham Prentice Sco
Longboard
1. Ian Macky East lothian
2. Brad Robertson Longniddry
3. Ronan Murray IRE
4. Dougie Brown Edinburgh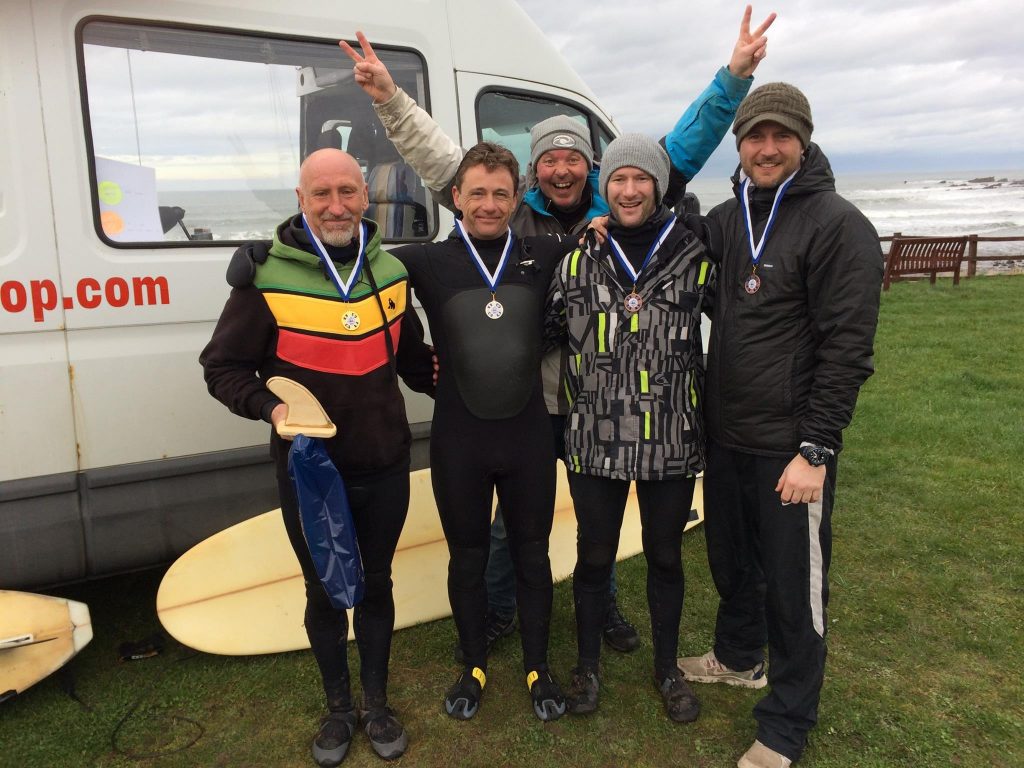 1. Jack Smiles Tynmouth
2. Elliot Young Dunbar
3. Noah Carter Dunbar
4. Owen McQueenie Edinburgh
5. Tamzin McQueenie Edinburgh.
Junior girls
1. Tamzin McQueenie Edinburgh
2. Lucy Young Dunbar
3. Lia Harris Dunbar