BSURF Olympic Announcement
|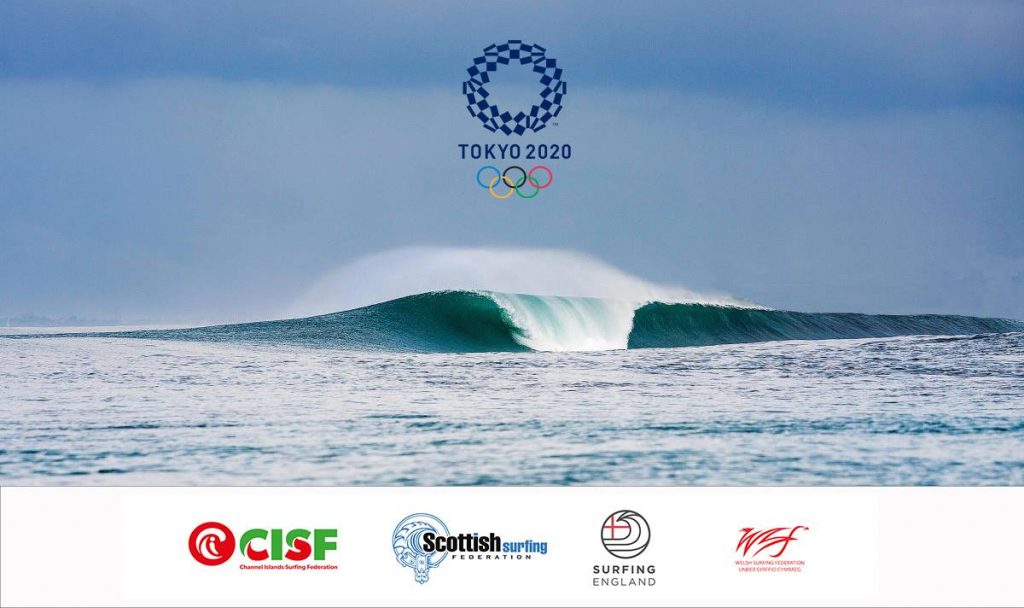 British Home Nations Olympic Statement
March 2018
Background
In August 2016 the International Olympic Committee announced that Surfing would be included in the Tokyo 2020 Summer Olympics as a demonstration sport.
On 16th March 2018 the International Olympic Committee (IOC) released to all the National Olympic Committees (NOCs) the approved qualification system for Surfing's Olympic debut at Tokyo 2020.
The key elements of the qualification system are as follows:
20 men, 20 women.
Maximum of 2 surfers per gender per National Olympic Committee (NOC).
Qualification spots will be earned on an individual basis, by name.
In accordance with IOC guidelines, the qualification events have been determined in hierarchical order of qualification, as further explained below; If two surfers of a gender have qualified through the first hierarchical order, that NOC will not be able to qualify more surfers of that gender through qualifying events lower in hierarchical order.
All surfers selected by their respective National Federations for their national teams must participate in 2019 and 2020 ISA World Surfing Games in order to be eligible for Olympic qualification.  The final details of the eligibility requirements are still under review by the ISA and the IOC.
The hierarchical order of qualification will be as follows:
2019 World Surf League Championship Tour: First 10 eligible men and first 8 eligible women.
2020 ISA World Surfing Games: First 4 eligible men and first 6 eligible women.
2019 ISA World Surfing Games: 4 men and 4 women selected based on their continent. Top finishing eligible surfer of each gender from Africa, Asia, Europe and Oceania.
2019 Pan American Games: First eligible man and first eligible women in the surfing competitions.
Host nation slot: One man and one woman slot will be guaranteed for the host nation of Japan, unless already filled through the above hierarchies. Should athletes from Japan qualify regularly, their slots will be reallocated to the highest ranked eligible surfers from the 2020 World Surfing Games.
Channel Islands, England, Scotland and Wales athletes will represent Great Britain at the ISA World Games 2019 & 2020 and the Olympic Games if selected, please see excerpt from official ISA Statement below;
–
–
Country Representation for Athletes without an NOC 
For events serving as official Qualifying Events for the Olympic Games, and in accordance with the Olympic Charter, surfers may only represent an ISA Member from territories with representation of a National Olympic Committee (NOC). ISA Members without NOC representation (Channel Islands, England, Hawaii, Scotland, Tahiti, Wales) will not be allowed to participate in Qualifying Events.
The surfers who have once competed for Member Federations without NOC representation will therefore be subject to selection for the National Team with NOC recognition of their territory (Channel Islands, England, Scotland, Wales: Great Britain; Tahiti: France; Hawaii: USA)
–
–
Athletes will return to represent the home nations at the ISA World Games after the Olympic Qualification events are completed.  2 out of every 4 ISA World Games could potentially become Olympic Qualification events should surfing also be included in subsequent Olympic Games.
In the meantime we can confirm that all surfers will be required to make themselves available to be part of Surfing Team GB for the 2019 and 2020 World Surfing Games, and if selected will be required to participate.  Failure to meet this requirement will render the surfer ineligible for the Olympic Games.  Information on the selection process for Team GB will be released in due course.
–
–
Funding
We have made submissions of funding requests and submission of all relevant data to UK Sport. On extensive analysis, UK Sport believe it is currently unlikely that currently any British surfer will win a medal in Tokyo 2020. UK Sport investment is wholly focused on medal winning performances to inspire our nation.
It is also yet to be confirmed if surfing will be in the 2024 and 2028 Olympics which also makes attracting investment into surfing a challenge. We will continue to collectively work to source performance funding.
We collectively recommend to all interested surfers that in order to attract funding from UK Sport, podium results in major international events needs to be achieved. Should podium performances be achieved, this would be clear evidence of medal potential at the Olympics and allow us to put forward a better case for UK Sport funding.
Collectively the Home Nation Federations will continue to monitor the status of the Olympic pathway and we are in close communication with all the relevant governing and decision-making bodies.
If you have any further questions, please contact your respective home nations body and for further information please visit their websites or the International Surfing Association website.
Scottish Surfing Federation
Surfing England
Welsh Surfing Federation
Channel Islands Surfing Federation
–
–
To view the complete Olympic Qualification System for Surfing in Tokyo 2020, click here.