EuroJunior 2016 – 9th Place finish for Scotland!
|
Earlier this month Scotland placed an incredible 9th place at the Euro Juniors in Agadir, Morocco.  The top 10 finish by the junior team is the best ever result for a Scottish team at international competition and surfers in all divisions put in fantastic performances to contribute to the overall result.

Team Lineup:
EUROJUNIOR – MOROCCO
U18 – Men
1. Finn MacDonald
2. Andrew Robertson
U18 – Women
1. Iona McLachlan
2. Clover Christopherson
U16
1. Finn MacDonald
2. Iona McLachlan
U14
1. Ben Larg
2. Clover Christopherson
U18 Men Bodyboard
1. Andrew Robertson
2. Oisin Strachan
U18 Women Bodyboard
1. Clover Christopherson
U16 Bodyboard
1. Clover Christopherson
2. Mikey Wimbledon-Hall
U18 Longboard
1. Andrew Robertson
Judge
Lisa Monteith
Team Manager
Marti Larg
Team Coach
Sam Christopherson
Here is Coach Sam Christopherson's Day to Day run down of the event and some photos:
Day 1 – Opening Ceremony
Day 2
Scottish juniors charge day 2 !
Just wanted to say how chuffed I am today as team coach!
First up was Andrew in round 2 of the bodyboard! Again pretty solid conditions – Andrew had an epic battle against the Irish bodyboarder, first place right till the last 5 mins when both the Irish and a morrocan overtook him! Finishing 3rd.
Finn and Andrew had Irish and Channel Island surfers in their round 1 heat.  Andrew progressed in 2nd place into round 2 of the main event and Finn dropped into the repechage.
The focus then switched to our juniors Ben and clover! Both surfing in really big conditions over the reef area for the first time! Both got out back in double overhead waves facing a very high standard of competition. Personally as clovers dad I was so chuffed she made it out back even though she failed to catch a wave in the heat as that was more than quite a few European juniors ( all boys). Ben aged 11yrs has come a long way when he's disappointed with catching one wave at this level in these solid conditions – so much potential in this young man for future years!! And I look forward to his repocharge where he will do well!!
Next up the focus switched to bodyboarding with Oisin in repocharge 1 u18 bodyboard. Oisin paddle out back scoring two solids sets and a 5.9 combined score winning his heat!!!
Chuffed as anything Oisin tried the same tactic in repocharge round 2. Oisin took on the Atlantic with an epic paddle through lines and lines of white water or 20 mins but after almost making it out back in the biggest conditions of the day he'd been ripped out of the comp zone and failed to get a wave – which was a shame as if he'd taken the easy route of the reform he'd have gone through to rep 3. Still a fantastic effort and as his club coach all the effort behind the scenes fitness wise more than paid off to see the smile on his face when he won his first heat!!
Clover was then in under 18 bodyboard girls finishing 2nd in her heat and making the semi- finals! And there is potential to go further!!
clover and mikey where then involved in round 2 repocharge of bodyboard u16. Clover was resigned to a two wave white water strategy as she still had a 4th event later. She came 4th leaving the focus clearly on mikey who didn't disappoint!! Scotlands pocket dynamo went on another epic paddle out making it out back again in double overhead dumpy surf giving the judges, me and his mum kittens!! Catching two outback waves in the heat today – mikey won his heat and is now into round 3 of u16 repocharge! The boy is on a roll…..
The final event of the day was the u18 girls with clover and Iona and the surf got even bigger! Iona was heat 1 and took it on but just didn't quite make it out – getting a couple of white water waves and moves into the repocharge. Clover went in heat 5 and I gave her the choice not to head out back as it was solid. She paddled out through 15 waves and then got ripped sideways over the reef and came back in. I again gave white water as a choice but she ignored me heading out back and this time scraping through a lull and being one of only two girls in her heat – the other being a morrocan lady who ripped! Clover had to paddle up against the rip and there where serious sets pushing through however catching just one wave could get her through as the other girls where caught inside. It was tenderhooks as clover paddle hard for two big sets but just missed the waves. Paddling back out a massive set landed on her and after all the paddling she had done I was genuinely worried she'd have enough energy to swim back up as her board tombstoned. But it did and she paddled out again. This happened twice and with 5 mins to go she still only needed one wave score of 1.5. With three minutes to go she paddled inside and caught a small green wave standing for around 3 seconds. Surely enough…. no 1.1 scored – 60 seconds to go …, just stand in the white water I signalled – she stood but fell immediately 0.2 scored …. 3rd and repocharge missing u18 round two by 0.15. But as team coach and dad can't be happier overall.
This is the best our juniors have ever done and we still have more events to go!!
My objective pre this tournament was to make clover, mikey and Oisin fit enough to get outback and get two waves. All three have done way more, with epic paddles,  heat wins and competitive performances at an international level. I am so happy!
And Andrew has lead the way with Finn, Iona and Ben all with their best days ahead this week!
Rock on day 3…..
Day 3
Day 3 – even more success in the sun!
It's official our kids are having a stormer!!
So our pocket dynamo mikey smashed it and bodyboarded really well to progress to repocharge round 4 under 16 finishing 2nd in his heat! He is literally the " boy on fire". 
Next up was Andrew Robertson who not to be out done by his younger counter part also bodyboarded so well to 2nd in repocharge 3 u18 bodyboarding and now moves to repo 4 also!!!
Then within 40mins Andrew headed off to the other podium to surf near perfect double overhead right hander. Andrew showed why he is scotlands top junior surfer attacking his first wave with 5 solid back hand turns of varying verticality posting a solid 4.5 first wave! Andrew had Portuguese, Moroccan and english top  junior u18 surfers in his heat and he was leading!!!!! Then the Portuguese surfer tore a wave apart to score a high 8. Andrew though wasn't phased and got a 2nd great wave, linking some great turns but just missed his finishing manoeuvre scoring 5.5. ( this was the highest Scottish junior score ever in an international) and he had both the morrocan and the English worried. Unfortunately the morrocan got a cracker 7 pointer but Andrew was still ahead combined until the last two minutes with the morrocan getting a 6. A super solid effort by our young man finishing 3rd!  Andrew drops into repocharge 3 in both events and the way he's surfing you wouldn't bet against him progressing further!
The focus also moved to surfing for most of the day with Andrew getting the ball rolling finishing 2nd in the longboard heading to round 2. 
Finn and Iona went next in under 16 surfing repocharge 1. Iona made it out back and caught a cracking wave but failed to back up with a second wave which would have got her through needing 0.3 pts. The whole Scottish team was on the beach encouraging Iona just to stand on any wave in a super tense finish but she just ran out of time. 
Finn however took it on getting a 5.5 first wave in the under 16 repo 1  – cracking wave!! and progressed with ease. He backed this up with progress in under 18 repo!! A cracking set of results for Finn and if he can put a heat that has two good waves like above he could keep progressing!!
Wee Ben also went in the under 14 repocharge 1, super eager to impress and he surfed super well – he is a great wee surfer and only 11yrs in under 14 age group and made it through to rep 2!!
The winning mentality is infectious within the team with all the kids exceeding expectations !! We are also on it as a team being 2nd team on the beach today getting a space in the team tents and out in the water free surfing before the other teams arrive. All making a difference to our kids learning heat by heat!!
Just also wanted to say the morrocan hosts have been amazing and all the locals are super friendly. With our kids making friends and skateboarding with the local groms!!
Some might notice that I didn't include Clover and Oisin in above as both officially got the lurgy today. Thankfully Oisin had finished his comp and didn't bodyboard as he is in fever just now! Clover is also not well today braving 4 surfs heats today but around 50% normal self. She did grand though getting two waves or more in all her heats but was definitely out of sorts and there where points she just wanted to go back to bed but recovered enough to head out! Dedicated to the end for the Scottish points!! Unfortunately she went out repocharge 2 in ladies u18 bodyboard and repocharge 1 in the under 14s surfing today. And with illness and 8 heat surfs in three days she's done in. One more to go girls u18 surf so hopefully she will make full recovery and we will see tomorrow. 
Also oisin, mikey and clover wanted to say a big thanks to Tim and josh ( coast to coast instructors past and present who's bodyboard expertise and time has really helped the youngsters progress!!
Day 4
Another great day!
Can't believe how well the kids are doing! Today it was surfing and long boarding so no bodyboarding.
Iona hit the water in the u18s girls surfing repocharge in shoulder high shore break. It was technically pretty fast breaking but she did really well catching three unbroken waves narrowly been beaten to third. Iona has learned so much from this trip and gained confidence and an understanding of the personal steps she needs to do to adapt to non Thurso conditions. Definite talent.
Finn went next in the under 16s surfing repocharge 2 and surfed well! At this level the standard is really high and Finn showed great skill to be competitive but just missed out. Technically finns a really good young surfer with time on his side and has the potential to fill the gap Andrew will leave next year and take it further. Finn also competed in the u18s r2 with Andrew straight after and surfed even better in this heat and pushed Andrew and the older competitors all the way! Only down by a couple of points. He has the potential and with focus on training and some technical improvements could be competitive at senior level in Scotland too!!
Next up was wee Ben in under 14s rep 2. Ben was sick all night but still surfed his heat well catching 4 or 5 good waves but the fatigue of being unwell mean't he just missed out. Ben has another 2 years at the youngest age group and could be competitive at the highest level in under 14. Talent plus training!
Finally it was (saint) Andrews day! Surfing really technically well in his u18 r2 close surf heat – he just did enough-to go through to r3 finishing 2nd !!  He then went onto the longboards and did some lovely cross stepping and round housed combos on a bic surf Betty hired board!!! you could almost feel him smiling during his heat. He got some epic rides and finished 2nd place and makes the semi Final!!!!a good surf next he could make the longboard final!! Mental.
So we have left now mikey r4 for bodyboard, clover r2 ladies surfing, Andrew p3 longboard, r3 surfing u18 and r4 bodyboarding! Can't believe day 5 of 7 we still have three kids in the comp!
Roll on day 5!
Moment of the day!! Oisin who finally recovered from his fever chatted to one of the morrocan marshalls (who is an ace guy and keeps saying the Scottish team are the best to all our youngsters!!). Anyway oisin found out the young lad was saving for university which is a huge amount of money. Oisin had earlier randomly found 120 dirhams ( about £10) on the beach and gave it to the lad ! A superb gesture….we have great kids too!!
Day 5
Only two in the water today.
Andrew was first up in the shortboarding surfing u18 r 3.
Unlike all his surfing to date he admitted this wasn't his best performance. Slightly out of form he failed to complete turns on three different waves and this was telling given the standard of the heat! The waves where pumping and today it just didn't happen with a score half of his best in previous heats. Andrew however has excelled in this competition and exceed all expectations to get this far and we are so proud of him. His focus switches to bodyboard and longboard both tomorrow! Fingers crossed!!
Clover went in the shortboard u18 girls r2 with standards getting better and solid sets pushing through. As Robbie put it – " your a super brave wee thing!!" Referring to clovers strategy of paddling the biggest waves out there. She manage to catch a huge wave – double overhead for her and rode it for a while. She couldn't find another and came third. She's finished now and learned so much for future years!
We took Iona, oisin, mikey and Clover further north after Andrews heat and scored great waves at anchor point ( one of morroccos most famous waves!!). Oisin and mikey got some of the best waves of their lives!! I iona and Clover surfed it too with Iona getting a couple. I finally got a good surf too with a quality barrel and some good turns! It's an amazing wave. Finn, Ben and Marty had stayed at their hotel for the day and Andrew stayed at the comp venue to practice with Robbie.
Anna had also organised for all of us to a traditional haman and massage tonight which was amazing – really really good.
Was a top day!
Tomorrow we have Andrew and mikey in bodyboarding and long boarding both have genuine chances of progressing possibly to the final day with some luck!!!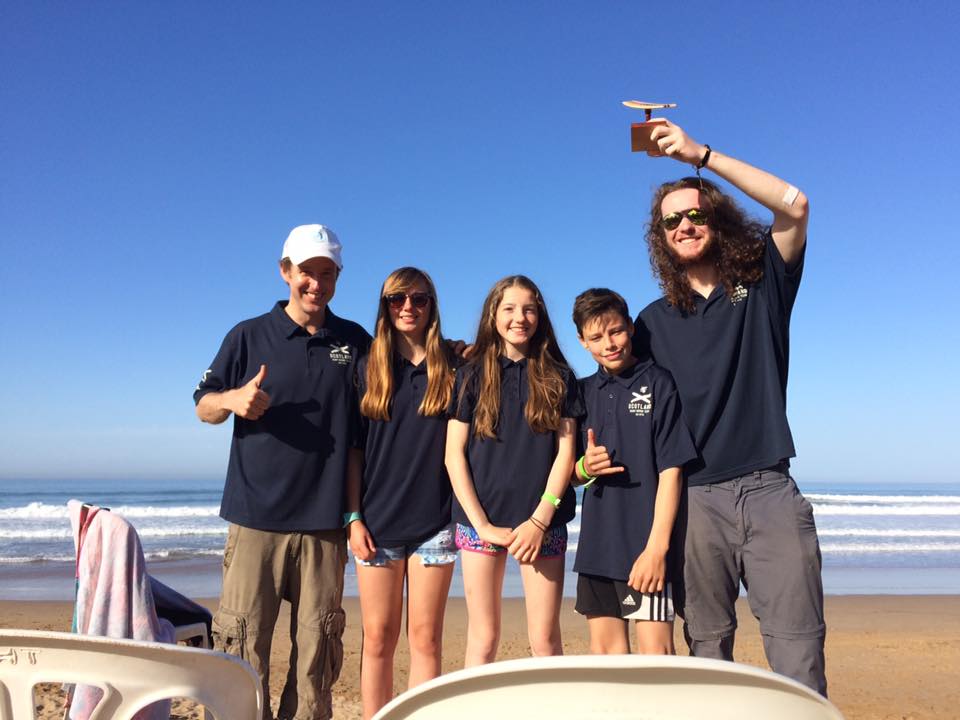 Day 6
It was again absolutely firing in the surf.
We had our final two warriors bodyboarding and long boarding today.
Wee mikey in the bodyboarding was first up in repocharge 4 of the u16. Still 12yrs old, with a whole heap of morrocan and Irish new friends mikey has brought so much to the Scottish team. He did really well today but finally met more skilled older competitors. He put together 4-5 good waves but simple lack of experience and skill repertoire showed finishing 4th and 11th overall in his category a fantastic effort with – a kid that didn't know how to bodyboard in may -4 more years at this age band!!
Andrew was next up in the bodyboard and had a mirror situation to mikey in meeting more experienced bodyboarders. Andrew bodyboarded well but finished 4th too and 11th position. Andrew also long boarded in heat 3  and repo 3 and again came up against the top nations longboarders. Was amazing to watch but Andrew on his hired bic did amazing but just ran out of puff to finish an amazing 7th!!
Scotland are currently lying 10th of 16 nations and may move above Wales to 9th depending on results tomorrow! It's been a fantastic comp for the kids and I had never imagined we would still have kids inside the top 15 and still have interest day 6 of 8.
The kids are looking forward to a free day surfing and sleep in!!
We also free surfed with all the kids except Andrew at la source and killers two amazing breaks. Clover caught the longest wave of her life at killers and Finn had the best of his life. Oisin loved it too. Ben, mike and Iona charged la source. And we still made it back for Andrews repocharge and team support!!
We also went to a mad morrocan market at dark, the biggest market in africa! Which was super cool and fully hectic.
Day 7
Finals day.  Scotland finish 9th overall and receive the award for friendliest team.  Portugal finish on top.  For full results go to
www.eurosurfing.org
Huge thanks to Pro Liberty Surfboards, The Comm Bar Thurso, Staunch, Robbie Robertson team filmer, Lisa Monteith Scotland judge and media rep, Martin Larg team manager and all the other parents involved and of course the kids for their fantastic achievements.  Also a huge thanks to those who donated and pledged on the teams just giving and Crowdfunder pages.
Videos: